For years, architects and builders have specified aluminum windows for their overall strength and lasting value. Oppein thermally Improved Aluminum Series windows are strong, durable, and energy efficient. Aluminum windows are great for both replacement and new construction window projects.
The use of thermal barriers in aluminum framed windows vastly improves the insulating ability. Polyurethane is placed between the frame to create a thermal barrier and reduce the flow of heat making Milgard Thermally Improved Aluminum windows more energy efficient.
We can do any custom aluminum windows project or aluminum doors.
Aluminum windows can help achieve contemporary design requirements. With clean lines and narrow frames, they are the perfect complement to enhance a modern architectural style. Great for retrofit or new construction.
To make exceptional aluminum windows, we use high quality components. Our rollers, locks, frame members and hardware are designed to keep our aluminum windows in the forefront of appearance, security and strength. Many are Oppein exclusive designs, offering performance you won't find anywhere else.
Aluminum windows have an extremely long life and are highly resistant to outside weather elements. Because of their rigidity and durability, and can be configured into combinations with a large glazing area for maximum views. They beautifully accentuate the clean, thin lines of contemporary design.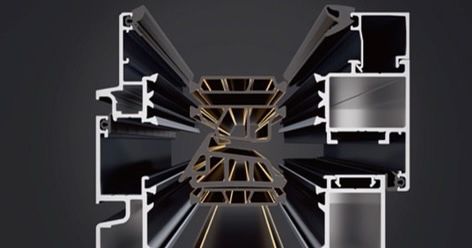 30 Year Limited Warranty:
Oppein Thermally Improved aluminum windows are made from quality materials. We continually redesign, improve, and update our rollers, locks, frame, and hardware for appearance and strength. These windows are covered by the Oppein warranty. 
With the Aluminum Series single hung window, the lower panel slides vertically upward when opened and it overlays into the stationary top panel. You can close and lock the window securely, in one motion, with the spring action lock. If the window is closed, it's locked.
Horizontal sliders are one of the most common aluminum window styles seen in homes today. You can select which side opens, either left or right. The spring action lock lets you easily see if your window is closed and locked.
Aluminum Series awning windows are durable with clean lines and a modern look. This window opens outward from the bottom with a crank handle to ventilate your home.