Home office remodeling and customization are successful ways of having an inspirational environment for productivity, whether you work from home permanently or temporarily.
Everyone can be successful working from home under the right conditions, your office layout and design are one of them, but coming up with the perfect office design to accommodate your work requires careful consideration. From layout to lighting, this is your chance to craft a workspace that is unique to you and how you work.
Use these home office remodel important tips as a guide.
You need to feel fresh and positive when you are in your home office. There are some essentials to keep in your mind when it comes to your home office remodeling which include:
Spacious desk
Ergonomic office chair
Modern electronic devices (computer, monitor, printer, wireless router, etc.)
Storage and organization
Enough soft lighting to prevent eye strain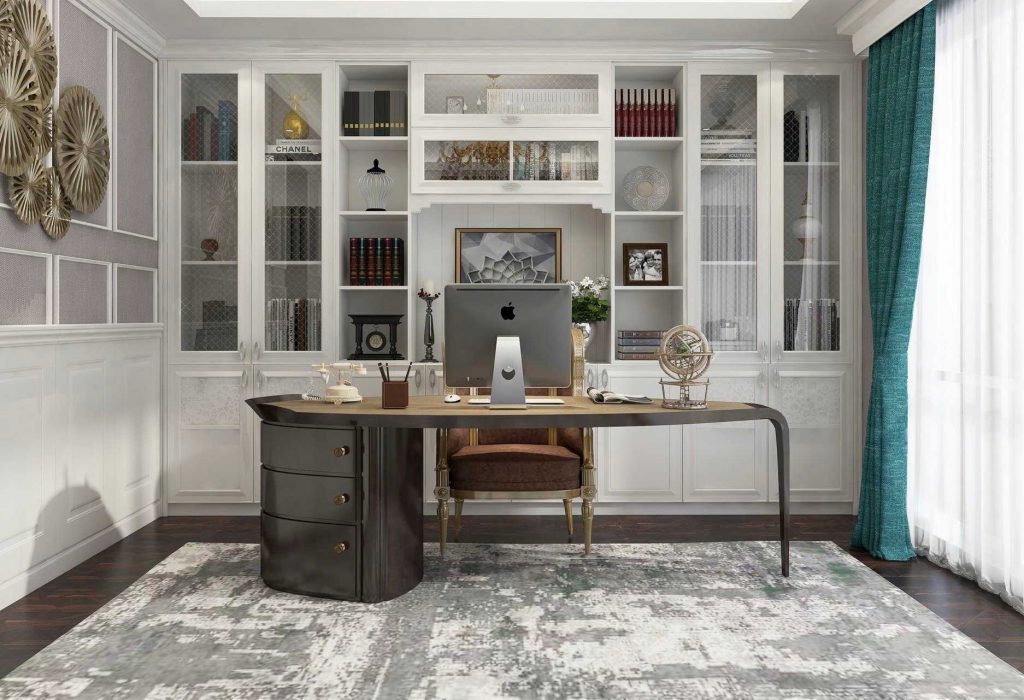 2. The Location of Your Office
You can't set the right plan for your home office remodeling without choosing the location of your home office. Below we dive into some common locations for your home office to consider.
Separating Workspace From Home
If you can, choose a separate room for your dedicated workspace. Separating your workspace from the rest of your home has important mental benefits like helping you to concentrate and focus. 
You're looking for a space that is either inherently quiet, like a basement or attic or has a closeable door. Being able to close the door or keep pets out during important calls or meetings can greatly impact your productivity.
Areas that are close to the kitchen or living room are rarely ideal, as you'll be able to hear household noise more easily. The fewer distractions, the better! If you host clients in your home, be sure the space is either connected to an outside door or very close to it.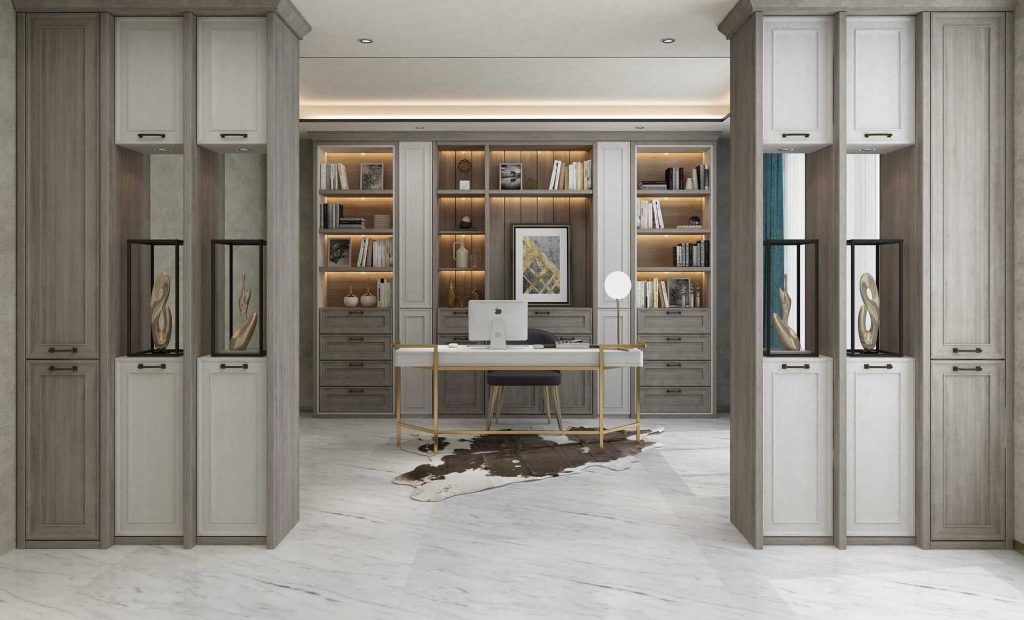 Outbuildings, also known as Accessory Dwelling Units (ADUs) or backyard cottages, are by far the most trendy and customizable option for your home office remodel. They are also the most private, though they come with a larger price tag. You can convert a shed into an office, build a brand new studio from the ground up or even design a tiny home with an office. Floorplan options are practically endless and the same goes for interior design.
You can search for examples here to begin exploring the possibilities.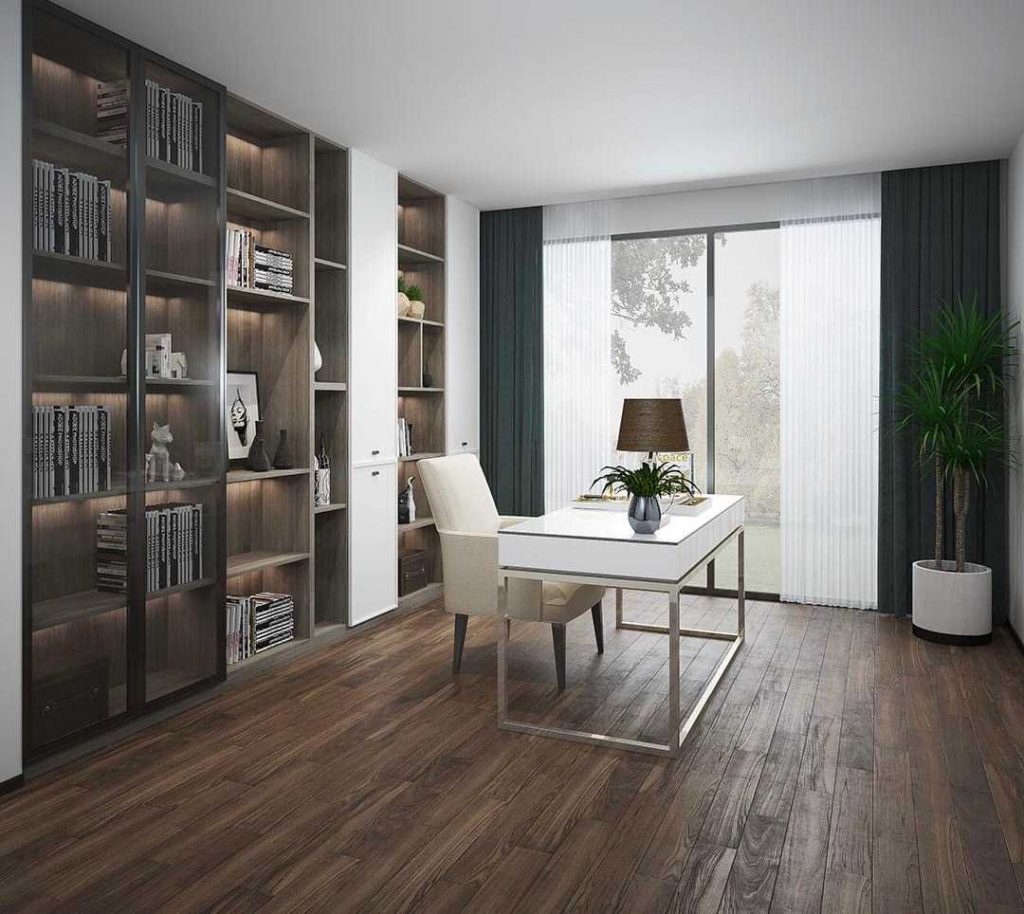 Convert a Spare Bedroom Into an Office
If there's an extra bedroom in your home, why not more efficiently use the space by converting it into a stylish and comfortable home office? It usually takes just a few, low-cost modifications to make a bedroom into an office. Since bedroom color schemes tend to be dark and soothing, start by painting the walls in brighter, more wakeful tones. Consider peppering the walls with artwork, framed inspirational sayings, diplomas or awards—things that will motivate you. You may want to invest in a floor mat or area rug to define your workspace within the room.
Wall-mounted desks and shelving can be your best friend when converting a room to a home office. Or you can install a wall-mounted built-in cabinet at an affordable price.
Share your home office remodeling plan with us. We can help you to select the best choice.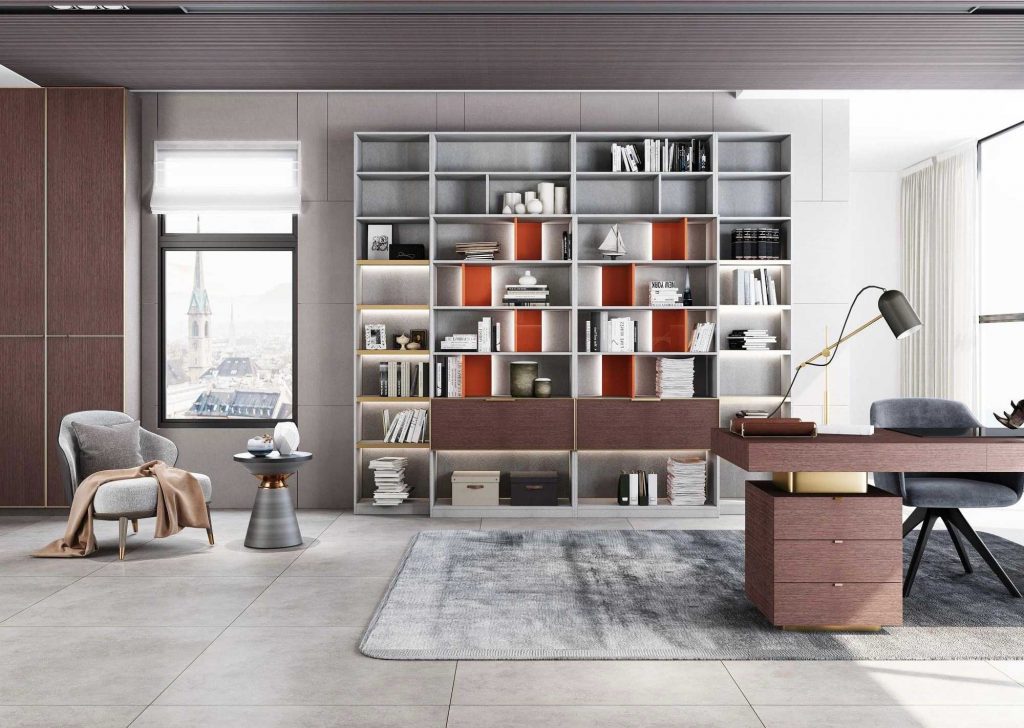 If you've been looking for a better use for your garage, an office might be the solution! Garages are often spacious, already have electricity and have easy access to the home. Though garage conversions can be substantial projects, they can be well worth the investment if your home needs additional usable space. This option is ideal for locations with little extreme weather to worry car owners and plentiful street parking in much of the city.
Built-in vs Freestanding Desks
After deciding on a location, one of the important home office remodeling tips is that you'll need to decide between a more permanent built-in office versus a freestanding workspace. If you've been aching for a home workstation and plan on working from home often (or full-time), a built-in desk may be the best choice to maximize space, optimize storage and promote efficiency.
Most Custom Built-in Home Offices Have These Features:
Luxurious bookcase cabinets (combination of closed cabinets and open shelves)
Permanent built-in desk
Wall storage/filing cabinets with pullout drawers
Décor that matches the rest of the home
Charging station for electronic gadgets
Large windows
Recessed lighting (in addition to task lighting)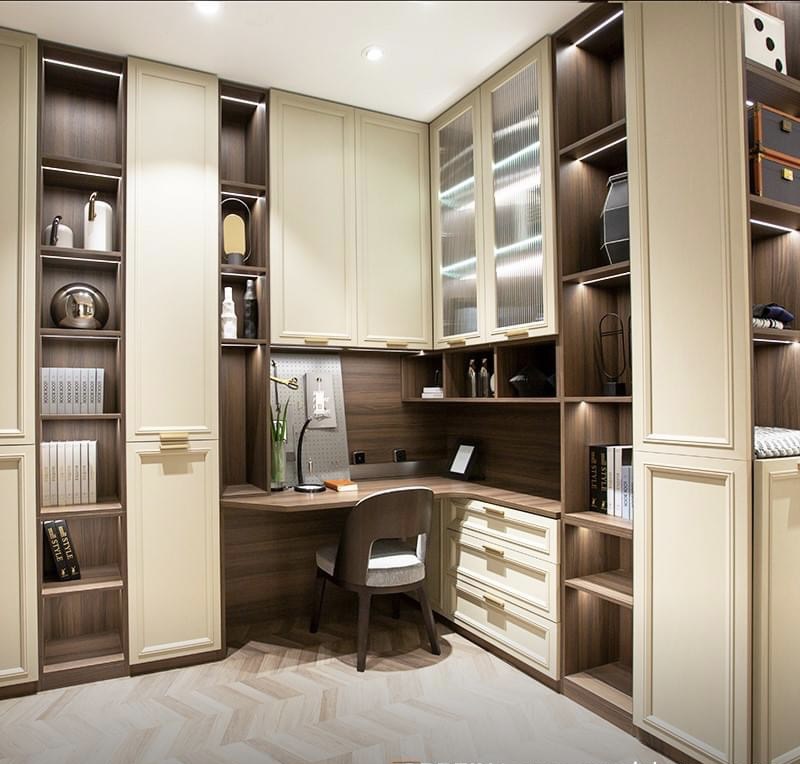 On the Other Hand, You Might See These Features in a Freestanding Office:
A portable desk or adjustable standing desk
Freestanding, mobile shelving units
File cabinets
Smaller windows or no windows at all (like in a basement)
Some people enjoy the flexibility of working from home and being able to mix up various workspaces. A freestanding office might be the best fit if that sounds like you. To provide a more serene setting you could even create a freestanding home office on your back deck or front patio—after all, this is about what will make you happy!
Because you'll be spending a lot of time sitting at it, finding the perfect desk for your home office is a priority. Based on your ideal workstation configuration and available space, choose from one of these desk designs:
L-shaped desk
U-shaped desk (ideal for sharing an office)
Rectangular desk (great for under a window or next to the wall)
Corner desk
There are also variations of these desk types including standing desks, writing desks, executive desks, and even roll-top desks. The layout and variation will depend on your personal preference and how you work. If you have a lot of paper files, a desk with a larger surface would be best. If you like to multitask, an L-shaped or U-shaped desk will allow you to compartmentalize different projects. If you prefer a minimalist work environment a smaller corner desk or rectangular desk will suffice.
During your home office remodeling, keep in mind that organization and a great office chair are the two things that will help your home office stay comfortable and clutter-free.
If you can splurge on the only thing in your office, it should be a chair. Don't think of it as a luxury item. If you spend a lot of time on the computer or telephone, we recommend you invest in an ergonomic chair to help with your posture and lumbar when seating. Your future self with thank you, we promise!
A well-designed, quality chair will help you stay comfortable in one place for most of your day, and will typically be adjustable so you can find just the right setting for your body. It will take into account a headrest, arm height, and curves for better posture and hopefully come with an option for wheels. Many office chair makers offer trial periods and free return policies so you can find the right fit.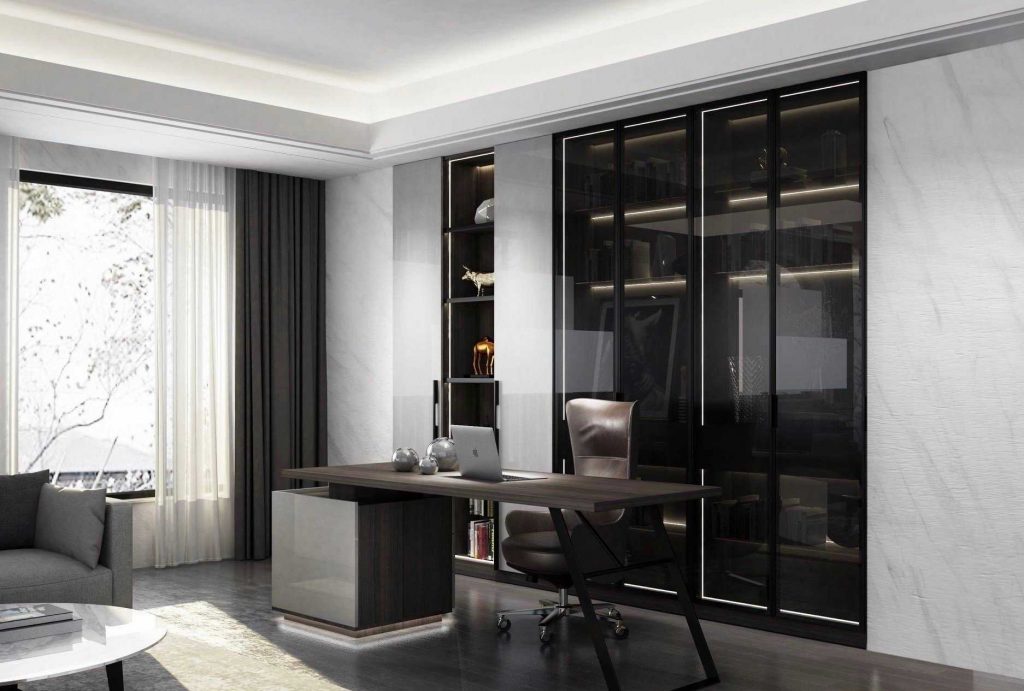 Another area to splurge on is home office organizers. Whether that's a file cabinet, mail sorter, paperclip holder, catchall, paperweight or other organizer is up to you. Take a look at what your current desk lacks and take some time to think about how you can group together your desktop items so they all have a designated place. 
We can help you to find the right combination for your specific needs and tailor it as needed. Contact our experts.
5. Home Office Remodel Ideas for Design and Décor
During your home office remodeling journey, you can create a wonderful atmosphere by adding personal touches. Don't be afraid of décor in an office space. Adding personality will make you naturally inclined to spend time in the space. The most basic design elements include an area rug, desktop task light and shelving. In addition to these items, you'll want to incorporate more specialized décor such as:
Photos of family, friends, coworkers or clients
Flowers or houseplants
Window coverings that invite in natural light
Framed pictures and wall art
Comfortable couch and decorative coffee table
Accent wall or wallpaper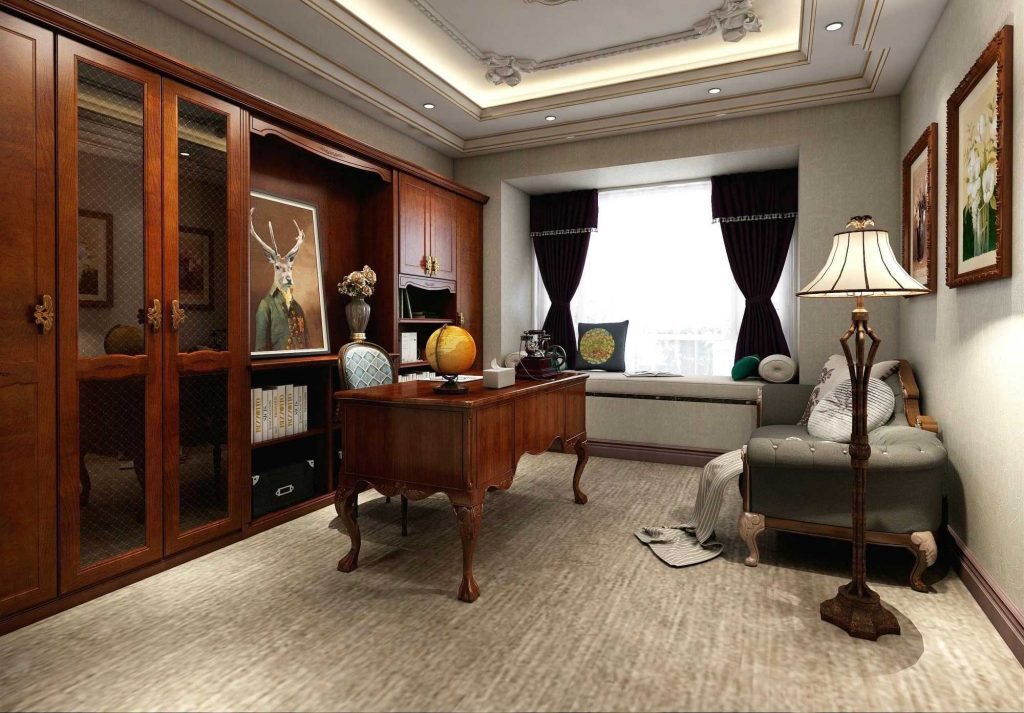 6. How Much Does a Home Office Remodel Cost?
Home office remodeling costs for a home office space vary depending on how you're building the home office. Are you transforming a bedroom? Adding a wall in a living space? Installing a new window, maybe?
If your new home office is a small part of a larger home remodel, some of the costs, including electricity, demolition, and structural elements might be wrapped into the total budget breakdown, and it's hard to say exactly how much just the home office remodel portion will cost.
However, by estimation, a home office remodeling costs around $15,000, or roughly $100 per square foot, assuming that most home offices are around 100-200 square feet. (If you're self-employed, you can even use your home office space to qualify for a tax deduction).
But what aspects of the project make up this total cost? It's several things, including:
Building permits – $1,300
Built-in Desk, Bookshelf or cabinets – $1,200-$3,900
Load bearing wall demolition – $1,200 – $10,000
Non-load bearing wall demolition – $300 – $1,000
Painting – $100 – $600
Furniture – $100 – $3,000
Soundproofing – $1,000 – $2,400
Lighting – $150 – $800
Electric outlet installation – $120 – $200
(Avg costs for 100 sq ft, according to HomeAdvisor).
All of these costs will vary depending on the contractor, market, office size, and project. The best way to accurately estimate cost is to get quotes from 2-4 contractors for your home office remodeling, rather than solely relying on internet research.
Contact our experts to help you accomplish your home office remodel project with high-quality materials, great design and affordable prices.