Good news for you! NATURAL WOOD KITCHEN CABINETS ARE ALWAYS THERE!
Natural wood kitchen cabinets are timeless, they are always there. Maybe other modern kitchen cabinets are preferred options for some time, but natural wood cabinets are always in sight. White cabinets, particularly shaker cabinets, have been the most popular kitchen cabinet for a while. In recent years, stained wood cabinetry has made a comeback in a big way. The new wood cabinets aren't the same honey oak ones we remember from the 90s. The newer style of wood kitchen cabinets is organic, modern, and beautiful in a way that has us seriously thrilled to see more and more kitchens shed the painted cabinets.
Painted cabinets are still a favorite to homeowners because the paint is so customizable. You can completely change the look of your kitchen simply by changing the cabinetry paint color. You can have your cabinets painted any color in the rainbow for a bold pop of color. Natural wood kitchen cabinets, while not as colorful, are also customizable with different woods and stains.
During this modern and technological life, still something bonds us with nature. Nature calls us.
That doesn't mean natural wood kitchen cabinets are for everyone but if it is a good and practical option that you are thinking about, there are some major pros. Let's take a deep dive into these wonderful cabinets and the case for using them in a modern kitchen.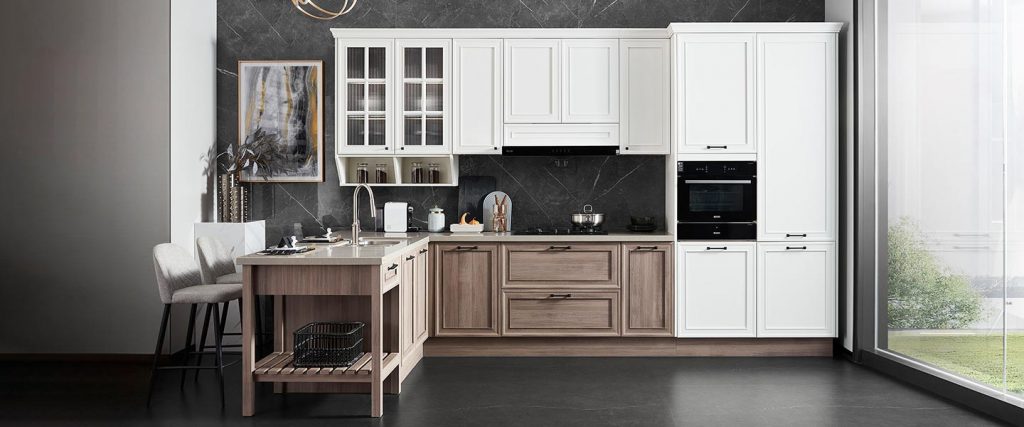 Guaranteed Durability and Strength
These cabinets are capable of lasting for decades because of their high tear and wear resistance.
Luxurious and Beautiful
If you're looking to amp up the sophistication level of your kitchen, a good way to do so is with rich dark-toned solid wood cabinetry. There's no denying how warm and welcoming it feels to enter a kitchen with hardwood cabinets.
It almost feels like you're being enveloped by quality. Oak cabinets are gorgeous and provide a natural, timeless, and classic feel to any kitchen space.
Easy Maintenance
In case their surfaces get scratched, they can easily be patched up and concealed by using wood filler wax and can be repaired by sanding. They are also easy to clean and maintain, unlike other kitchen cabinet materials. They can be re-painted, re-stained, or re-finished, which isn't very common among other cabinet materials.
Easy to Paint
The hard and smooth surfaces of wood cabinets make them super easy to stain and paint over. This is why they're able to blend in seamlessly with any kitchen aesthetic.
Refacing is Inexpensive
If there's ever a need to spruce up your cabinets, it's practically as cheap and easy as applying a coat of varnish or sanding the panel. There's no need to swap out the entire kitchen section when they get scratched or stained like in the case of fiberboard cabinets.
For instance, unlike wood, when fiberboard cabinets begin to warp, scratch or expand and contract, there's simply no way to fix them. As for solid wood cabinetry, there are different and affordable ways to reface and repair scratches so that you don't have to replace the entire fascia. One of the ways to do so is by applying wood filler wax sticks.
Increased Home Value
Natural is valuable. Natural wood kitchen cabinets have a great resale value which they retain when they are properly maintained. This, of course, cannot be said for many other trendy and inexpensive materials out there which lose value over time.
Eco-Friendly and Sustainable
Wood is a naturally renewable resource that has very little impact on the environment unlike cabinets composed of petroleum products. Natural wood kitchen cabinets are a great choice for homeowners who want their kitchens to only feature safe and eco-friendly products.
Types of Wood Used for Kitchen Cabinets
For many years pine and oak were the most popular species for natural wood kitchen cabinets. In modern kitchens, wood cabinetry uses a variety of species. Some popular species of wood for kitchen cabinetry include maple hardwood, ebony, walnut, cherrywood, pine, mahogany, red oak, white oak, pecan, hickory, alder, polar, birch, ash and others.
The following are some of the most popular and durable types of wood to use for your natural wood kitchen cabinet remodel:
Oak is one of the most popular woods used in furniture and flooring in the US. Oak is highly durable, easy to work with, and looks great stained or with a clear, natural finish.
Oak wood comes in a number of hues, but its grain pattern is quite unique, which makes it one of the easier species to recognize. It has a long history of use around the home dating back to pre-colonial times and remains every bit as popular today. While this makes it a mainstay in traditional design, its versatility means that it can also make a modern piece come to life.
Mahogany wood cabinets set the standard for fine cabinetry due to their beautiful swirling patterns and deep reddish-brown color. The durability and strength of this wood species are off the charts, which is why they are considered the epitome of luxury cabinets.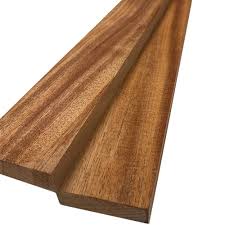 Mahogany wood is one of the most expensive kinds of wood. To make an informed decision when buying cabinets, always consider the strength and resale value of the natural wood kitchen cabinets and not just their price alone.
Ebony wood cabinets are the perfect choice for people who want something unique and delightfully attractive. These wooden kitchen cabinets are naturally dark black and their appearance provides a level of sophistication and timeless beauty which works wonders in modern architectural room designs.
In addition to their stunning look, ebony cabinets are also great at concealing stains and scratches.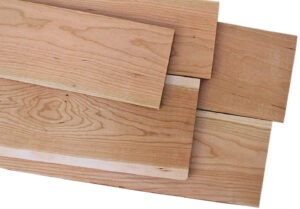 This type of natural wood cabinetry is extremely tough, even up to its cabinet doors. Cherry wood cabinets have uniform grain patterns which offer a timeless and elegant appeal, their reddish-brown color is also a thing of exquisite beauty.
Maple wood cabinets are super easy to paint and stain. They're characterized by their pale color and like the aforementioned solid wood cabinets, their surfaces are sturdy and durable.
One of the most durable wood. it is renowned for its longevity and strength. Aside from this, it's also warp-resistant, unsusceptible to moisture damage, and produces the best custom cabinets, making it the highest quality and most durable cabinet material.
These cabinets aren't as heavy as cheery wood cabinets and their surfaces are slightly smoother which is why they're a favorite among cabinet makers.
The strength of hickory cabinets rivals that of oak cabinets. Hickory cabinets have a pale yellow appearance and natural grain patterns which look divine when coated with a natural finish in a rustic contemporary kitchen design.
Ash is known for its light color, smooth grain. Wood grains are typically straight. Ash wood is a very attractive option for fine furniture.
Teak Wood is known as one of the more expensive wood. The wood grain of teak is straight with some occasional waviness. It darkens with age. Teak can be yellow to a golden brown. Depending on the part of the tree the shade varies.
Walnut natural wood kitchen cabinets are the most well-known and popular modern wood kitchen cabinets at the moment. Walnut wood is desired for its warm and mellow feel. Mid century modern cabinets with walnut are definitely becoming a popular choice.
Keep in mind all of these woods can be stained to your liking so if darker cabinets are your preference you can choose dark woods with a darker stain for your custom dark wood cabinets. You can do similar to achieve light wood cabinets and medium-tone wood cabinets as well.
How Much Natural Wood Kitchen Cabinets Cost?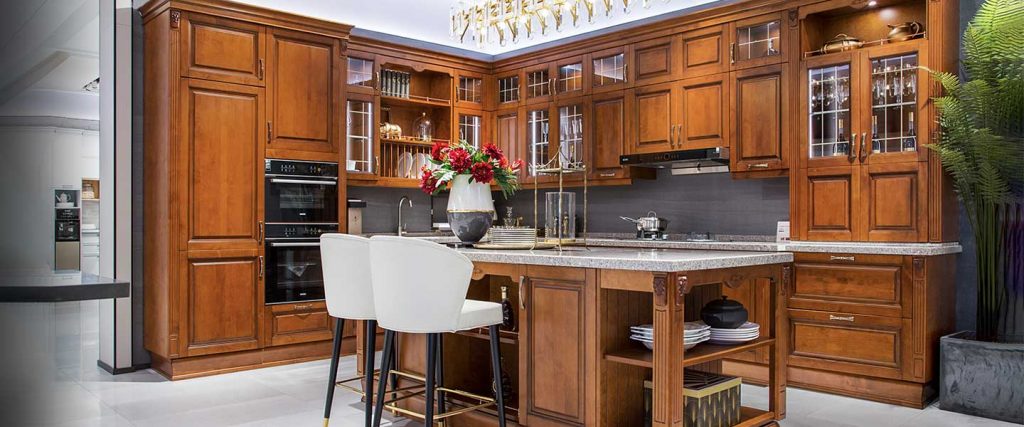 Cost, of course, is nearly the most important fact when it comes to renovating your kitchen. Cabinetry is typically the largest chunk of the kitchen budget.
Real natural wood kitchen cabinets will typically be more costly than other materials like MDF. Wood in general is costly and the cost fluctuates. Also, the additional labor required in producing high-quality wood cabinetry is significant. According to "Cabinets Now", depending on the quality, species of wood chosen, size, customization, and other specifications, solid wood cabinetry can cost anywhere from $100 to $1200 per linear foot.
Although solid, natural wood kitchen cabinets are more expensive than manufactured wood, it is also more sturdy and will last you a lot longer, making them an excellent investment in both design and longevity.
How Do You Make Natural Wood Cabinets Look Modern?
When you want to makeover your kitchen and save some money, here are some ideas for your natural wood kitchen cabinets:
Paint your cabinets or the wall. Keep in mind the contrasted today's neutrals colors.
Add a kitchen island. Don't forget to leave enough space.
Add a modern backsplash (e.g. geometric backsplash).
Change out the hardware. You can use contemporary knobs or matte black handles for example. Also, change the faucet hardware.
Choose the right countertop color. Alternating contrast is the best choice.
Replace some upper cabinets with open shelving.
Replace some upper door fronts with glass.
Add modern appliances. 
Thinking About Building Natural Wood Kitchen Cabinets?
At Oppein California, we can provide and advise you to build your dream natural wood kitchen cabinets. We specialize in luxury homes in Costa Mesa, California. Contact our experts to help you accomplish your dream wood kitchen cabinets project with high-quality material, great design and affordable prices.