Kitchen remodel cost is crucial, so setting a budget for your project involves much more than crunching numbers. Before you reach for the calculator, do your research. Find out what's available in the market today by visiting showrooms, reading magazines, checking out trade shows and searching online resources. Dream up your wish list, then revise that into a "reality list" with price tags.
It's a good idea to choose Plan A and Plan B options for appliances, countertops, tile—just about everything. If you keep a running list of alternatives, a designer can add or delete items to meet your budget. If you can stay flexible about the final choices, you'll have maneuvering space if unexpected costs arise, such as replacing rotted lumber or non-code-compliant electrical wiring.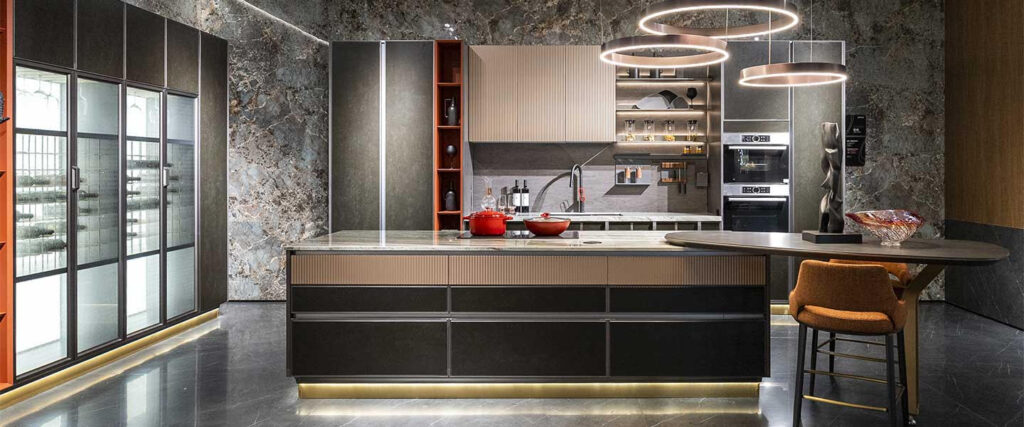 Set a Budget and Stick to It
The more research you do before making decisions, the less likely you are to change your mind. And those last-minute change orders can really pump up the kitchen remodel cost if you aren't careful.
Most times, unless there is an unforeseen structural, plumbing or electrical problem, material and finish changes are the biggest cause of cost overruns. And those costs are controlled mostly by the homeowner. Beware: Last-minute design changes or an incomplete design at the onset of the renovation guarantees kitchen remodel cost overruns.
For example, cabinets that are estimated in a paint-grade maple and changed at the last minute to Ceruse oak will add a huge cost to the budget. Same goes for deciding to include eight drawers in your island rather than two, or adding recessed puck lights under wall cabinets instead of a simple light strip.
Don't wait until later to plan your backsplash. Tile is not just tile, the size, pattern and material all impact installation cost.
How much can you really spend on this kitchen? You can have a wish list, but the important thing is to be honest with (your contractor) and we can value engineer a project to fit your budget. Get an idea of where your money goes so can plan appropriately. Download the Kitchen Budget Worksheet to help you manage your kitchen remodel costs.
Depending on the scale of your project, you can plan to spend between 6 and 10 percent of your home value for the best return-on-investment. If a house is worth $1 million and you put in a $50,000 kitchen, it probably isn't good enough. On the other hand, if you drop $60,000 on a kitchen for a $300,000 home, you're doing it for love—not the money you'll get back when you sell.
You never know what you'll find during demolition. Homes constructed in the 1970s and earlier can contain lead or asbestos. Testing and removal can cost thousands. A home built 50 or more years ago could require electrical upgrades in the kitchen to support new appliances and lighting. Plan for a contingency of about 10 to 20 percent to cover hidden conditions, substitutions and other surprises. It will cost more than you think, and the corollary: It's unlikely to cost less than they say.
Where to Splurge, Where to Save
Ultimately, your kitchen will reflect how you live. Because there are no hard-fast rules on where the budget must be spent in the kitchen, how you splurge and save your money will depend on what's most important to you.
The gourmet cook can justify an inflated budget for appliances and the splurge on a professional range. The entertainer sees a warming drawer and wine cooler as necessities. The busy family needs storage, storage … and more storage in those cabinets. And then there's the question of resale: How important is it for you to get a nice return-on-investment for your project? Or, are you designing a kitchen for the home you plan to live in forever? Think about how you use the kitchen, and put your money there.
If you're planning a kitchen you'll live in for the next decade and you can't afford certain materials you want today, consider placeholders. For example, rather than installing a granite countertop today, choose a laminate look-alike for at least half the cost that can stand in as your work surface until your budget allows for the upgrade.
What do you value in the kitchen? Refer to your completed Day in the Life of Your Kitchen Questionnaire and Kitchen Goals Worksheet. Then get a sense of how expenses are distributed with the Kitchen Budget Worksheet.
Here is some general advice on where to save and splurge:
Be practical and look for energy-efficient appliances with warranties—arguably, you'll use appliances more than other features in your kitchen. But be sure to maintain a balance between what you spend on appliances and cabinets. If you choose appliances first without considering cabinets/hardware, countertops or other features, you can box yourself into a floor plan and end up without enough money to spend on other features.
But be careful which appliances you spend on. For example, a refrigerator may need replaced in 15 years or sooner, but a cooktop will last longer. Spend there. If you have children and dirty dishes are a way of life, invest in a quality dishwasher or dishwasher drawers that make your life easier.
Across the board, stainless steel is the most popular choice and what buyers look for in a home.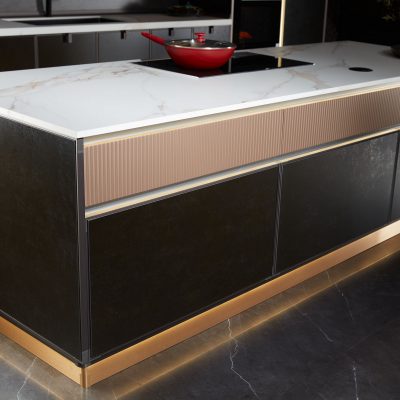 If the countertop will be the focal point of your kitchen, you might spend more. A stone countertop costs many times more than a laminate one, but will add beauty and value to your renovation.
In fact, a showpiece countertop could dictate the design in a kitchen—you may base decisions about cabinetry, color scheme and furniture like stools on the surface you choose. But remember, beauty is subjective. A buyer might not be that impressed.
There are shortcuts if you want the beautiful surface on a budget. For instance, there are assorted grades of granite (rated 1-5 or on various scales depending on the manufacturer). Rather than going for a grade 5, consider a grade 2, where you'll get a better return-on-investment.
Also, some laminate products cost half the price of granite and mimic the design. You can't put a hot pan on that surface, but you'll get the appeal you want. You can even install an undermount sink with laminate countertops today.
If you want to splurge a little, choose a statement surface for the island—a remnant piece of granite with a beautiful pattern, for example.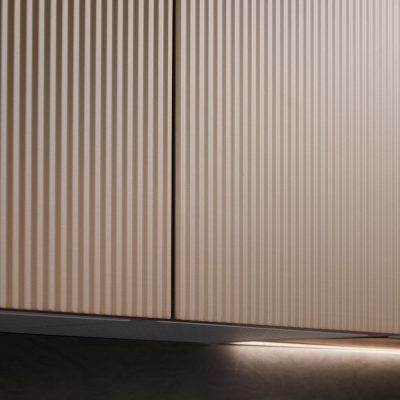 Some costs that can hike up cabinet prices: delivery, tax and installation. Drawers, roll-out trays, extra shelves and extending cabinets to the ceiling also add to the price tag. So will fitting out that corner cabinet. A Lazy Susan can add $1,500 to your budget.
A few musts: Definitely invest in a waste-recycling center, and be sure to choose cabinets with soft close drawers and doors, which has evolved from luxury to a "must" for convenience and resale. The place to splurge is on functionality. Drawers in base cabinets are more ergonomic and provide better storage access; paying more to build wall cabinets up to the ceiling will give you much more storage.
Save on the actual cabinet material, Steinkoler suggests. To the naked eye, you can have a veneer cabinet next to one that is solid wood and most people cannot tell the difference. Today's finishes can offer rich looks without the big price tag.
On the other hand, Burgin says that cabinet sides and shelving should be constructed from plywood, not particle board. Plywood is a good move for resale and keeping the cabinets strong.
Still, a quality pressed wood can last you 20 years. Just hone in on the cabinet construction, Look for good, clean classic lines and full door overlay, noting that many of today's mid-range priced cabinets offer a rich look without the custom price tag.
Don't save on installation: let the pros take care of that. To install a kitchen is much more than hanging boxes.
And don't spend your budget on fancy drawer inserts that you can buy at a home store. However, do spend on one good pantry with pull-out drawers and deep base cabinet drawers. Extra drawers are so much better than door cabinets. You won't have to bend as much and they'll be comfortable to use for years if you plan on staying in your home.
Knobs, pulls and handles can refresh the look of an entire kitchen—talk about a budget remodel. You can practically spend as much as you want on cabinet "jewelry," from $1.25 a pull at a home store to $100 or more from a custom designer.
Overall, changing hardware provides a fast, affordable cabinet refresh. If you want to save money, choose the same type of pull you already have—switch knobs with knobs, and pulls with pulls. Anytime you make a hole in wood, it does not grow back.
As for finish, you can update the look of your kitchen on the cheap by trading brushed stainless steel hardware for more on-trend oil-rubbed bronze, pewter and other time-worn, aged-looking metals. Don't worry if your faucet is chrome and your drawer pulls are bronze. You don't have to match all of your metals. Some variety makes the kitchen more interesting.
While ceramic tile is great for backsplashes, go with porcelain on floors. Porcelain tile resists chipping and cracking, and is a favorite for budget and longevity. It can be a terrific low-cost alternative to natural stone.
Keep in mind the size and pattern of tiles when figuring the budget. Consider large tiles for flooring, which give the kitchen an updated look and require fewer grout lines and cuts during installation.
Save money by purchasing a porcelain tile that looks like natural stone. Splurge on deco pieces such as glass-tile mosaics for a backsplash. Just space them out in the design—otherwise you'll push up the price of installation (think of it like a puzzle … more pieces, more work).
For instance, a sleek, white subway tile will grow old with a kitchen and never expire. Same goes for natural stones and neutral-colored tile.
Before you dig into your project, know your priorities so you can focus on spending where it's most important. Here are some other pointers provided by the National Kitchen & Bath Association to help homeowners save on kitchen projects:
Avoid structural changes, such as plumbing, mechanical systems and walls.
Once you order products and installation begins, do not change your mind.
Be specific when comparison shopping and be sure to compare exact products because prices can vary depending on model and even the finish.
Visit showrooms in person and see the products—don't rely only on the Internet to make purchase decisions.
Oppein California offers affordable pricing for your project. Feel free to talk to our experts. They will give you the best choice according to your house structure.