The right laundry room cabinet ideas can turn a cluttered space into a neat one.
With all of the soaps, sanitizers, and stain removers needed to do a proper load of laundry, it's easy to accumulate clutter on top of the washer or on an overstuffed shelf. Cabinets quickly become a must-have laundry room idea when combined with piles of dirty clothes, laundry baskets full of clean ones, and small appliances like irons and steamers.
The layout of your laundry room storage, such as shelving and cabinets, will be determined by the size of your space, the type of washer and dryer you have, and your personal style preferences.
Measure the area and determine your priorities. A cabinet to store detergent, dryer sheets, and washer/dryer supplies should be at the top of your priority list, followed by a place to store linens and towels.
The laundry room cabinet ideas presented below are appropriate for all types of homes. You can give your laundry room makeover a much-needed facelift with the best shelving and cabinetry laundry room ideas.
1. Select Two-Toned Laundry Cabinets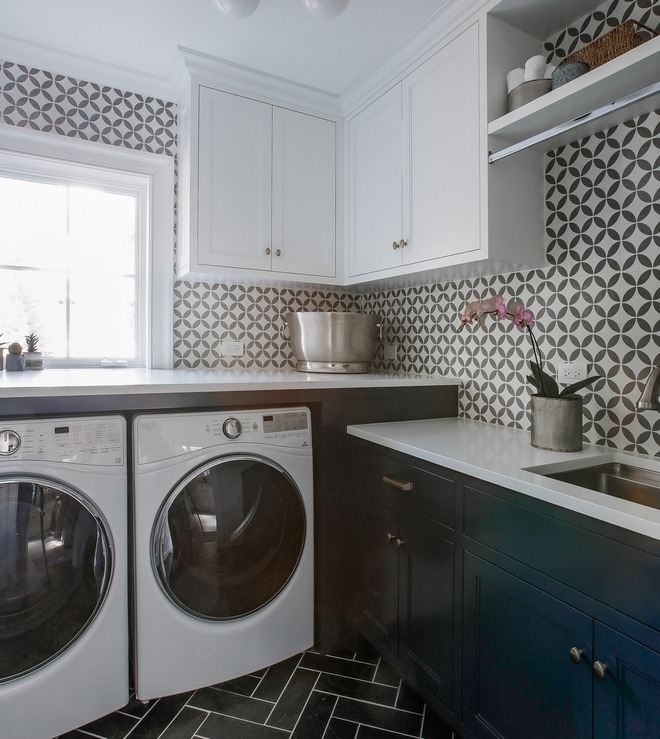 Love the look of two-toned cabinetry but can't commit to it in your kitchen? Instead, try it in your laundry room. The smaller scale of the space makes the choice less daring, and updating it in the future will be less expensive.
2. Get Creative in a Small Laundry Room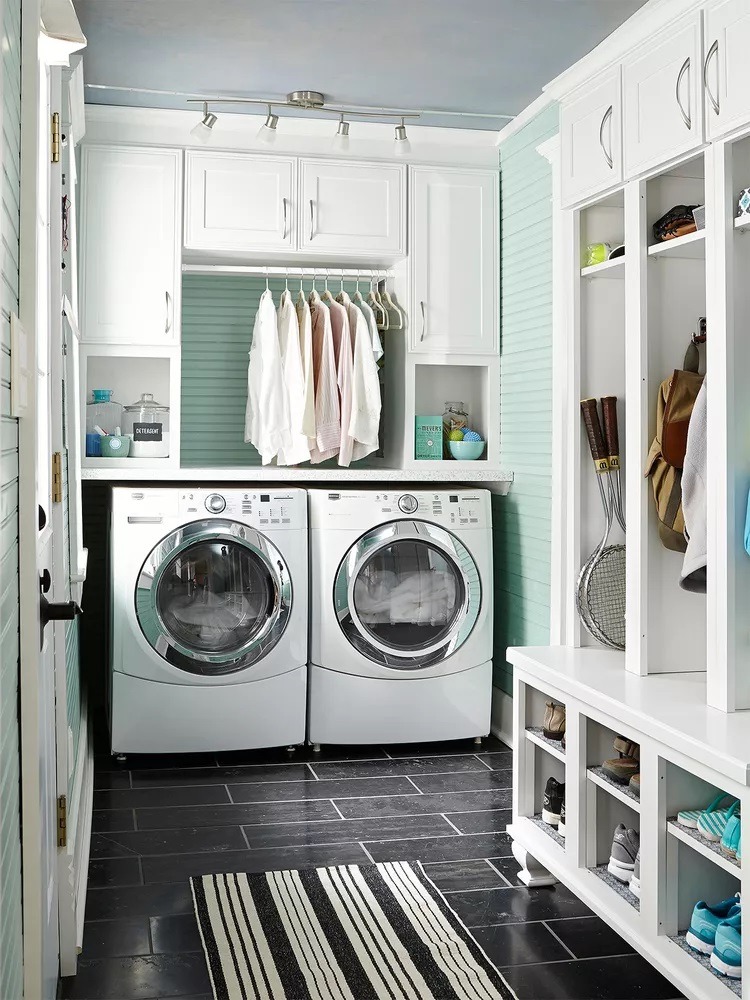 Are you looking for cabinet designs for a small laundry room? Even if you only have room for a stacking washer/dryer, cabinets can be added. Instead of leaving the empty space around the washer/dryer, you can convert it into useful cabinets that can hold everyday laundry necessities.
3. Use Cabinets to Hide Your Laundry Room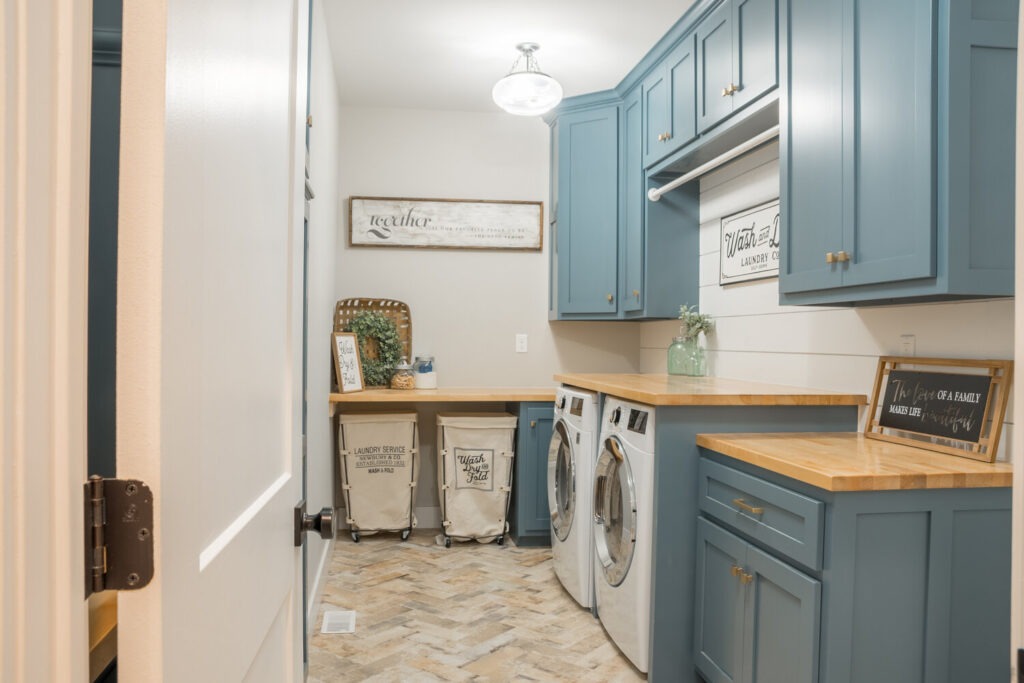 If your laundry room is shared with another room in your home, such as the mudroom, bathroom, or hallway, concealing it with built-in cabinets is one of the effective laundry room cabinet ideas. This look is also useful if you want to conceal any hint that you're doing chores when you're not.
Remove the header and go up to the ceiling to create height when you want to create the illusion of more space.
4. Have Some Fun With Your Laundry Cabinet
Make your ordinary laundry room into a colorful fantasy space that actually makes household chores fun.
Play with color and style! Your laundry room cabinets do not have to match the rest of your home's cabinetry.
5. Use Laundry Room Wall Cavity Sliding Door
One of the laundry room cabinet ideas is to consider a door that opens and slides back into the wall of cabinetry for laundry spaces that fit into another collection of cabinets, such as in a kitchen. This ensures that the working space can remain open without interfering with traffic flow. A simple cabinet has a few shelves and two doors that slide in, out, and back.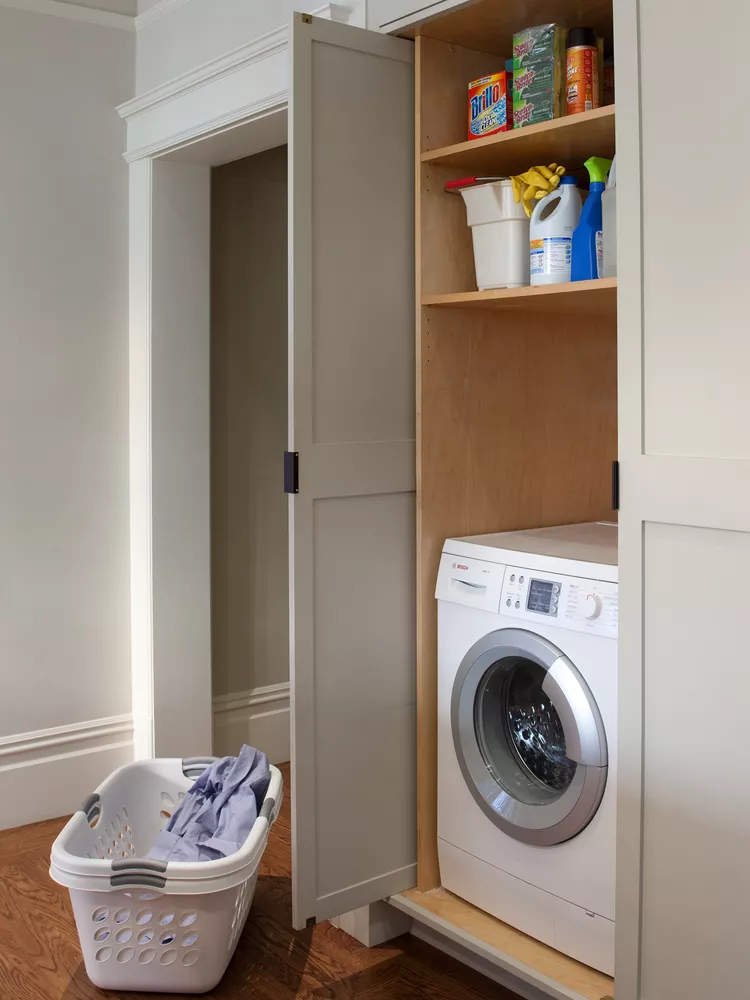 6. Install tall cabinets for cleaning supplies.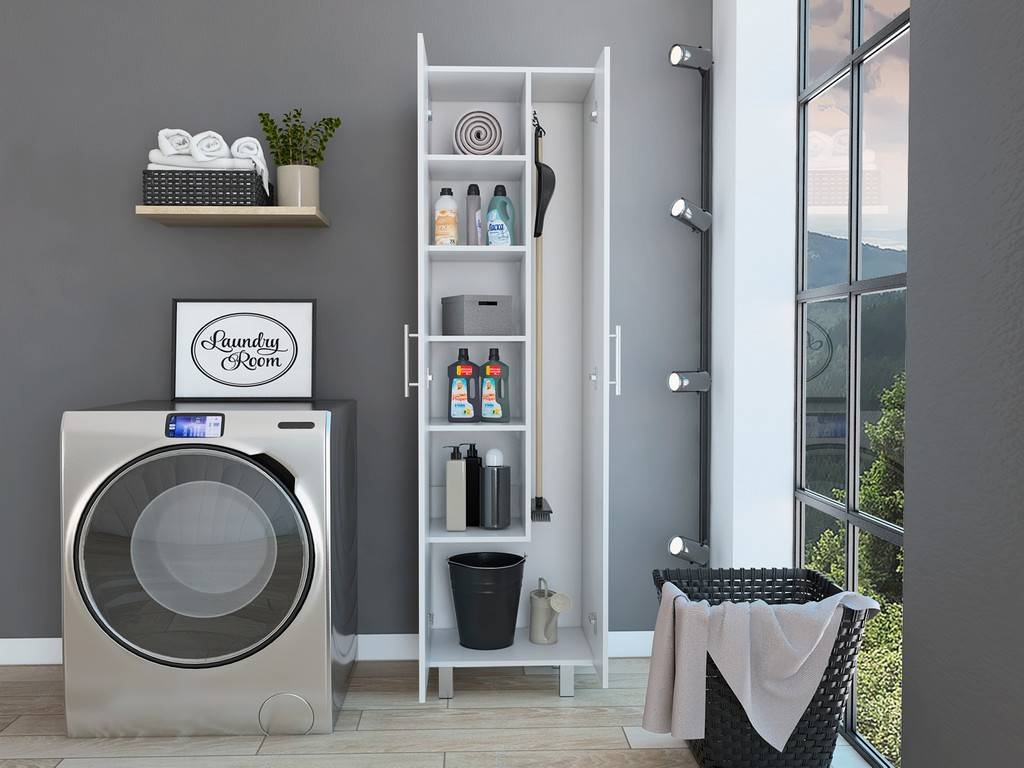 One of the effective laundry room cabinet ideas for the larger side room, consider adding a few tall cabinets into your layout. Also, it's a good idea to try to get floor-to-ceiling cabinetry for longer cleaning or ironing products and to make the cabinetry feel as built-in as possible around the laundry machines.
7. Position a Cabinet in a Corner
It's nice to have built-in cabinets surrounding your washer and dryer, but it's not always possible. If your laundry room is small or awkwardly shaped, place cabinets on the opposite wall instead.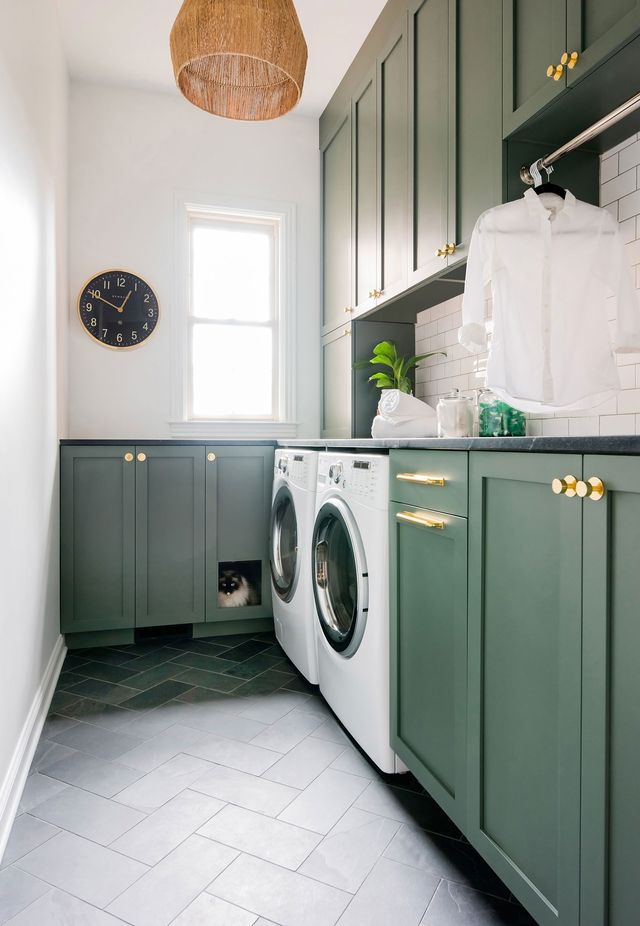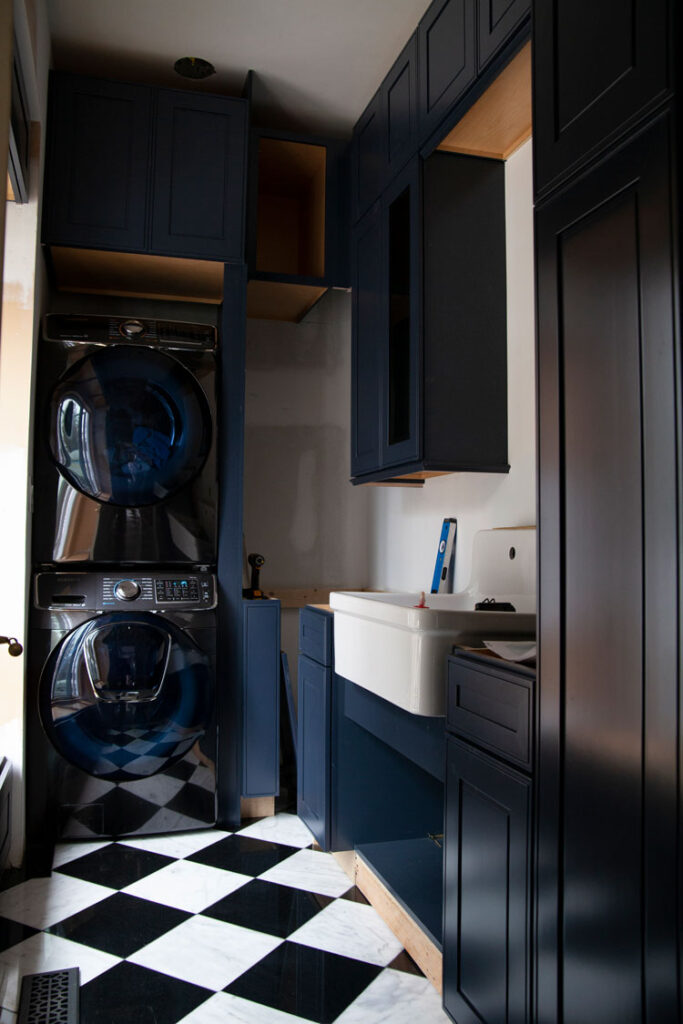 Windowed cabinet doors provide a nice compromise between open and closed storage. They let you see what's inside your cabinets, but the door grids and frame hide any clutter.
The cabinet doors added aesthetic value to the room as well. It's great that your windowed cabinetry opens up the elevation and lightens the wall of cabinetry while reflecting light throughout the space.
Laundry rooms are frequently integrated into other rooms, such as mudrooms, kitchens, or even bathrooms, making space a premium. Consider sliding or bifold doors to save space in your laundry room, especially if it is used frequently. The open shelving in place of cabinets eliminates the need for additional door-swing space.
10. Use Custom Cabinets to Maximize the Use of a Large Laundry Room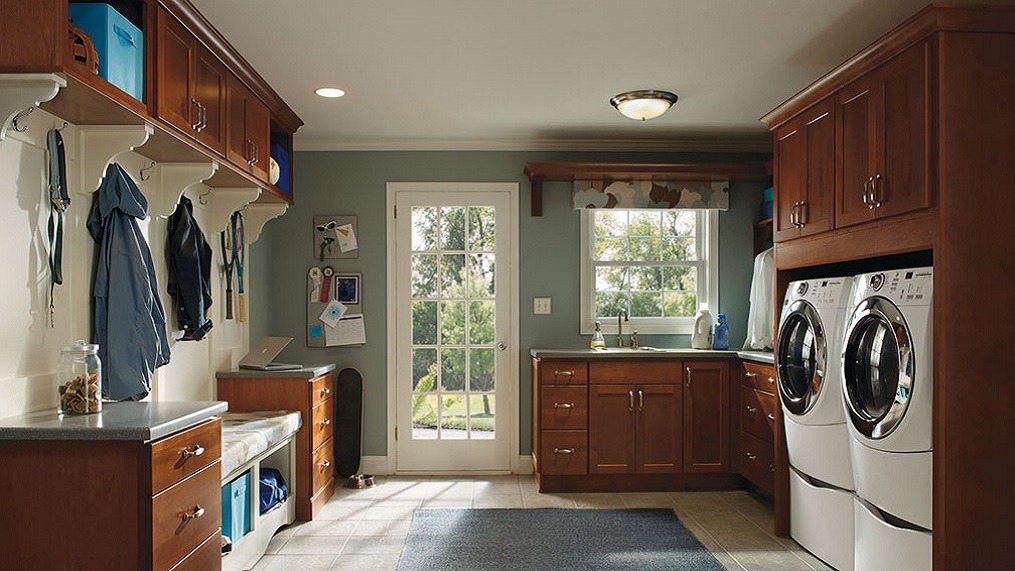 Working in a particularly large area? Consider hiring a professional designer to help you figure out how to order things with custom cabinets and other inspirational laundry room cabinet ideas.
There are different styles and options for that. If you need a help, contact our experts 
11. Separate upper and lower cabinets.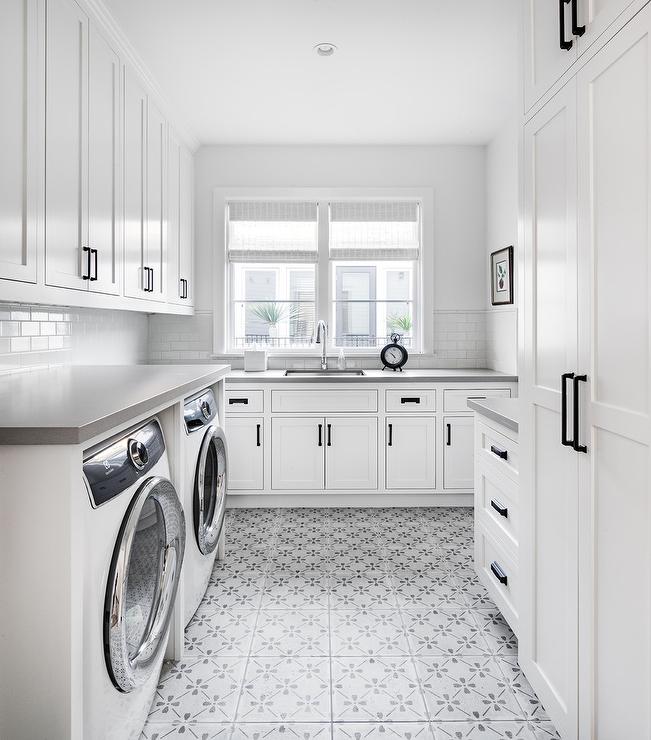 When it comes to organizing a laundry room, the laundry room cabinet should be at the forefront of your mind. To maximize laundry room functionality, stagger a set of upper and lower cabinetry on one wall. Upper cabinets above the washer and dryer are useful for storing soaps, detergents, and fabric softeners. Adding a set of lower cabinets on the diagonal adds storage and a useful laundry room countertop idea, while also making space for a useful hanging rack.
Can You Use Kitchen Cabinets in a Laundry Room?
In a brief, yes, kitchen cabinets can be used in a laundry room. Many home improvement stores sell spec kitchen cabinets that can be used in a laundry room as-is. A standard upper kitchen cabinet can be installed directly over the washer-dryer, or it can be flanked by a lower cabinet and countertop.
These cabinets are typically available in limited, standard widths and heights, making them ideal if you don't require a large amount of cabinetry or don't want a built-in look (unless you get lucky and standard cabinets happen to be a perfect fit for your space). Choose unfinished cabinets and add your own paint and hardware to customize the look of your laundry room.
If you go with store-bought kitchen cabinets, you'll also want to make sure you choose the right materials.
When it comes to materials, it's fine to use a low-cost MDF core with a wood or laminate veneer, but avoid Thermofoil. Thermofoil is a popular, low-cost option for laundry room cabinets, but be aware that the plastic coating can melt when subjected to extreme heat or moisture.
How Deep Should a Laundry Room Cabinet Be?
Because the ideal depth for both is the same, kitchen cabinets work well in laundry rooms. Upper kitchen cabinets are approximately 12″ deep, allowing enough space for detergents, cleaning supplies, and so on. Lower kitchen cabinets are typically 24″ deep. This works well next to a washer or dryer because both are typically 25″-28″ deep. A cabinet this deep allows you to store items such as laundry baskets, a steamer, or a bucket for soaking stained clothing.
For more laundry room cabinet ideas, feel free to talk to our experts. They will give you the best choice according to your laundry room's layout structure.