If you've visited our showroom, you know how much we love a good wall of built-ins. I think they create so much character without spending a ton of money, and you get all that glorious added storage.
Thing is, to build built in cabinets, there's no need to build the whole thing from scratch. You can create a custom look with unfinished stock cabinets as your base for the project. 
This means when you get an idea to add some storage, you can imagine the cabinets and we'll design and create them for you.
There's a little trick to it though! 
We have a go-to for almost all of the built-ins and bookcases We've built over the years. We custom produce your built in cabinets upon your budget and style.
Upper cabinets are usually 12 inches deep and lower built-in cabinets are usually 24 inches deep.
We have beautiful budget-friendly built in cabinets, as well as high-end and luxurious built in cabinets.
You can choose to have your built in cabinets in the hallway, built in cabinets can be custom wine storage cabinets, or dining room sectionals for storage.
You can build your built-in next to the main door and can be used as shoe storage, and coat storage, you can also place your umbrellas there.
Here at
Oppein
, we use German machinery to build your built in cabinets, first we calculate the number of wood boards to be used in producing each unit according to the measurements of the unit, and we then put them together according to a sketch that we make before starting each job, to do that we use the needed tools, then we get the style of the hinges that's needed for the style of the door opening the client requests. 
Step 1: Choose the right built in cabinet
Choosing the right built in cabinet can be difficult sometimes, because it has to match the style of your home, the colors of your walls, and the needed use. Here at Oppein we have an experienced design team that help you choose the right built in cabinet for your home, whether it's a small storage use, wine holder, plates storage, or a utility unit for your shoes, we will give you the best decorative built in cabinet at the best cost, to fit your budget and to meet your expectations in high quality, durability, and design.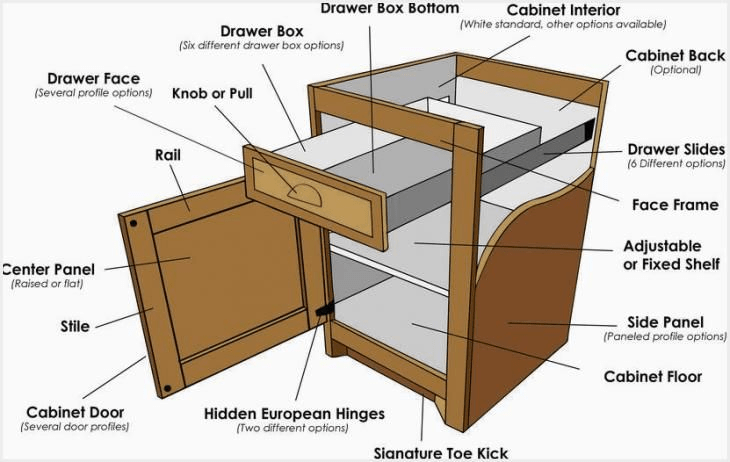 Step 2: Install base cabinets
Base cabinets are much easier to install than uppers. It takes patience but all you'll need are a powerful drill, shims and good cabinet screws.
Step 3: Adding the details to get a custom look
When you add the base and then some simple trim on the sides of the cabinets, your finished product will have the look of custom cabinetry.
Adding crown molding to the top of the cabinets is another way to create a higher end bookcase.
Adding the "jewelry" to your built ins is the perfect finishing touch! 
Installing pretty knobs or pulls to your cabinet doors adds some nice contrast and beautiful detail.
Step 4: Installing built in cabinets
1. Remove Existing Baseboard
Before installing anything, you'll want to remove the existing baseboard that is in the space where your cabinets will go.
To do this, we use a small pry bar and hammer along the back wall the cabinets will sit against. For the sides, come out about 12″ from the corner of the wall, mark it and then we use an oscillating saw going in at that mark to cut out that portion of the baseboard instead of having to remove the whole thing. 
2. Build a Frame for the Cabinets to Sit On
Since these are wall cabinets, they are shorter than typical base cabinets. If we just install them without putting them on a base, they are going to feel really small in a room and you're going to be bending over more than you should. To bring the height of the cabinets up, we usually build a base for them consisting of 2″ x 4″s and plywood.
We will want your frame to be as long as the space we are installing your cabinets in and as deep as your cabinet bottoms, about 12″. 
It is easiest to first assemble a basic 2″ x 4″ rectangle frame, put it in the space, then add in more 2″ x 4″ supports.
Add 2″ x 4″ supports every 16 inches. You'll want to drill a pilot hole first, then attach the pieces with your screws to keep from splitting the wood.
3. Set the Cabinets in Place
Bring your cabinets in and set them up however you wish on the base. Usually it will be according to the use.  Most likely, you'll want to space them out so that you have a relatively even amount of empty space at each end of the cabinets.